The lights in my garage are fluorescent light fixtures. The last few weeks the fluorescent lights have been buzzing when I turn them on. Now the fluorescent lights won't come on. I replaced both the fluorescent light bulbs but the light fixture struggles to turn on. How do I fix my fluorescent light fixture?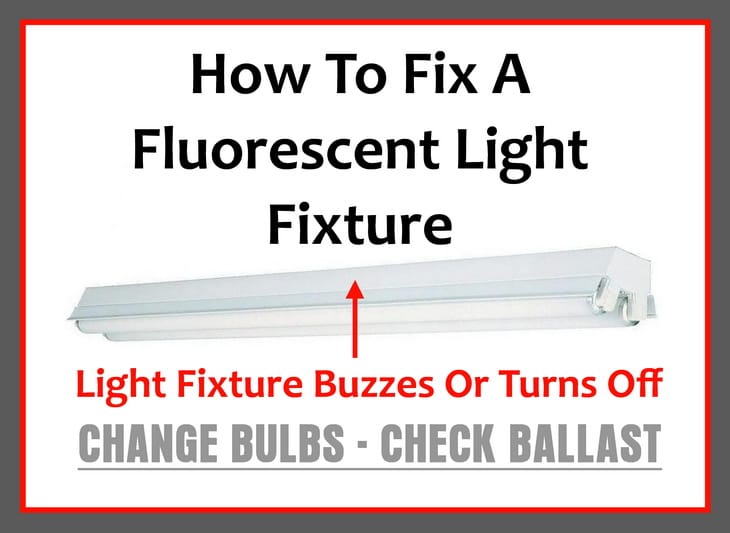 Fix A Fluorescent Light Fixture That Buzzes/Turns Off
If your fluorescent light fixture makes buzzing noises, is flickering, struggles to turn on, or does not turn on at all, the most likely problem is a faulty ballast. A fluorescent light fixture that has a bad ballast will cause different types of issues which troubleshooting will indicate the ballast needs to be replaced.
Install new fluorescent light tubes/bulbs
Test the light fixture by replacing the fluorescent light tubes to be sure the light bulbs/tubes are not the cause of the issue. (Burnt out fluorescent light bulbs/tubes causing the light to not turn on) If the newly installed fluorescent light tubes do not fix the buzzing noise or light fails to illuminate, this indicates you will need to remove and replace the ballast to fix the fluorescent light fixture.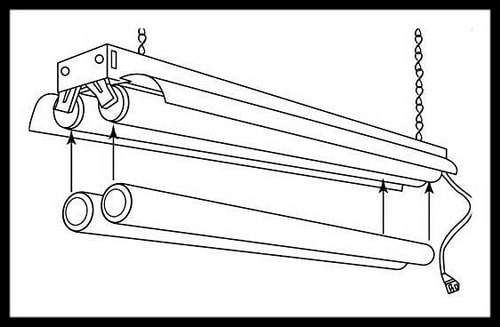 Lights in fluorescent light fixture
If you have a fluorescent light that has burned out and you need help finding the size, the information below will assist you. Find the correct size fluorescent light bulb or light tube if your bulb or tube has burned out. Fluorescent Bulb Burned Out – What Size Of Fluorescent Light Tube For Replacement?
Is the fluorescent light ballast faulty?
If a fluorescent light struggles to turn on, this means the ballast is bad. To test the ballast, you will need to take the fluorescent bulbs out, take the fixture apart, and use a multimeter to check power going into the ballast. If electrical power is flowing into the ballast but no power is flowing to the fluorescent bulbs, this indicates the ballast is faulty and needs to be replaced.

Ballast for fluorescent light fixture
Replacing a fluorescent light ballast
After many years a fluorescent light ballast can fail. Replacing a ballast is fairly simple. You can find a replacement ballast online or at your local hardware store. When you buy a new ballast, the instructions to install it comes with it. It is best to remove the old ballast and take it with you to your local hardware store, or take a picture of it to find the correct ballast and match it up to be sure you purchase the correct part.
NOTE: To understand wire colors when rewiring your light ballast and what each wire color indicates, please check the information here… Wiring Colors Chart – Electrical Wire Color Codes

Fluorescent light fixture ballast installation wiring
NOTE: Your fluorescent light fixture wiring may differ

See the information for how to fix a fluorescent light fixture. How To Repair Fluorescent Light Fixtures?

How to Replace a Fluorescent Light Ballast
Need help with a fluorescent light fixture? Whether it is a light bulb, tube, or ballast, we can help. Leave your issue in the form below and we can assist.