Need connection tips and help to connect a soundbar to a TV? Wondering which audio cable is the best? Amplifying TV audio using a soundbar makes watching television a more immersive experience. A soundbar allows you to hear the true surround sound in an adjustable amplified enjoyable environment. A soundbar is also a good idea if you are tone deaf or hard of hearing.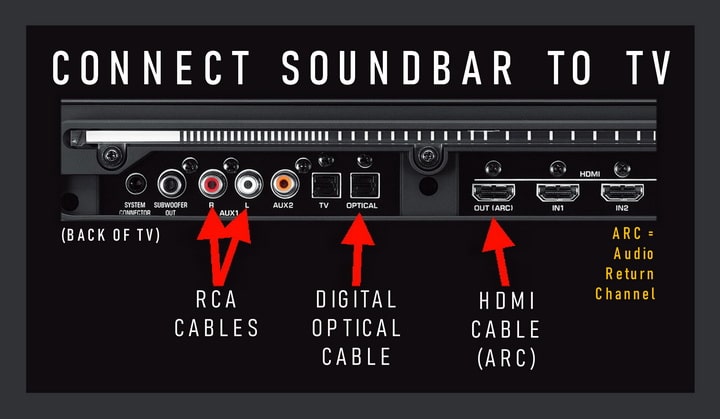 How to connect soundbar to a television
How To Set Up A Soundbar To TV
A soundbar can be connected to your TV in a few different ways. The most common soundbars are setup using an HDMI cable to your TV in the "ARC" port. This common setup allows any sound you are hearing from your TV to be output and heard through the soundbar.
Once setup, adjusting the treble, midrange, and bass can help you hear the sounds meant for the movie theater and live sports. These settings can be adjusted for anyone hard of hearing and needs the audio louder and cleaner for speech to be heard. See here if TV has no sound.
Audio Cables Used To Connect A Soundbar
You can use an HDMI cable, Digital Optical cable, or RCA tv cables. The easiest way is an HDMI cable.
1. HDMI cable (Carries the most uncompressed digital data for higher surround sound systems from 5.1 to Dolby Atmos)
2. Digital Optical/Coaxial cable (Transfers digital audio up to 5.1 surround sound)
3. RCA cables (Carries only analogue audio NOT digital audio – These cables cannot deliver a 100% digital surround sound)
Should I Use An HDMI Cable?
Using an HDMI cable is the easiest way to connect your TV to a soundbar. An quality HDMI cable carries large amounts of digital audio and works with the highest surround sound systems. You can use just one HDMI cable from the soundbar to the TV to connect it and be done.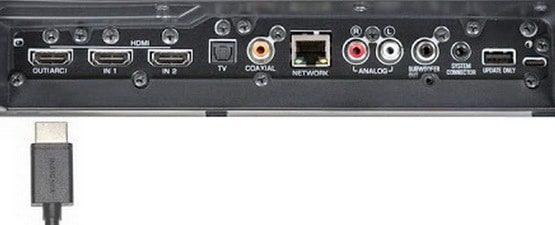 HDMI cable (back of tv) connect soundbar to tv
How To Connect A Soundbar To A TV With An HDMI Cable?
To connect your soundbar to your television, be sure to check the TV's HDMI ports for a port that is labeled "ARC". Connect one end of the HDMI cable to the TV's HDMI-ARC port and the other end of the HDMI cable to the soundbar into the HDMI-ARC port. Once connected through ARC, turn on the TV and soundbar to test the setup. Check here if the TV does not recognize the HDMI cable.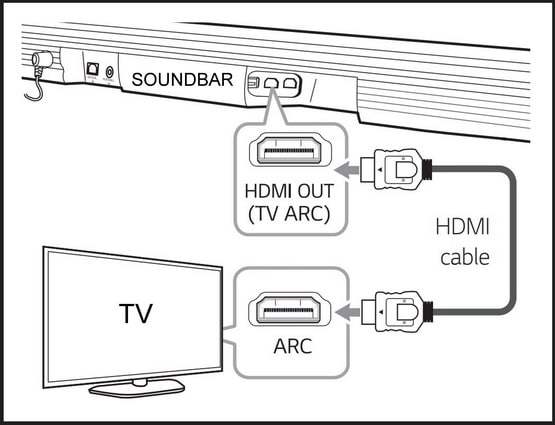 Connect soundbar with hdmi cable
Make sure you have a long enough HDMI cable. If the HDMI cable is going "through the wall", you may need a few feet longer than initially thought. There may be a cap covering the end of the HDMI cable so be sure to remove it before inserting it into the HDMI port.
When connected using ARC, to connect other components to play video games (Xbox) or watch movies (blu-ray), plug the HDMI cable from the component you are connecting into the soundbar HDMI IN port.
When the soundbar is setup and working properly, go into the TV menu and scroll to "audio". In this menu, you can turn OFF the TV speakers so they do not turn on when using the volume button on the remote control of your soundbar.
What Does ARC Mean On TV Port?
"ARC" = Audio Return Channel. ARC means the audio is able to travel in both directions. Most new HDTV's (and soundbars) have an HDMI marked "ARC". This means one HDMI cable from your TV to the soundbar will get you setup. Once the cable is connected through ARC, you can connect all your components (Xbox, Blu Ray) directly to the soundbar and not to the TV.

How to: hook up soundbar with HDMI cable
How To Connect My Soundbar To A TV With A Digital Optical Cable?
Check the back of your TV to find the small square output. Plug one end of the optical cable into the TV optical input. Once the digital cable is connected to the TV, connect the other end to the soundbar digital optical input. After the cable is connected, turn on the TV and the soundbar to test the system.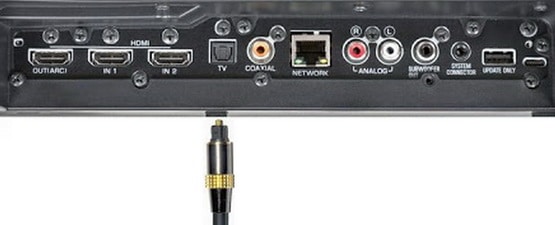 Digital optical cable (back of tv) connect soundbar to tv
Be aware when connecting the digital optical cable it may have a cap on the end that needs to be removed first, also note that the cable can only fit into the square hole in a certain position, so be careful you do not damage it. The digital optical cable has a square shaped connection.
Should I Use RCA Cables To Connect Soundbar?
Before using RCA cables to connect your TV to the soundbar, know that these cables cannot carry true digital audio. Use an HDMI or a Digital Optical Cable instead. If you have the choice, use an HDMI cable in place of RCA cables. RCA cables will not deliver true digital sound.
How To Connect TV To Soundbar With RCA Cables?
If your soundbar only has RCA connections, here is how to connect them. RCA cables use only the RED wire and the WHITE wire for audio. When connecting audio with RCA cables, ignore the BLACK cable. The BLACK cable is used for VIDEO inputs only.
Plug the RED RCA cable into the RED RCA port on your TV, and the WHITE RCA cable to the WHITE RCA port on your TV. Take the other ends of the RCA cables and plug the RED cable into the RED port on your soundbar and the WHITE cable into the WHITE port on your soundbar. Once the connection is complete, turn on the system and test for proper connection.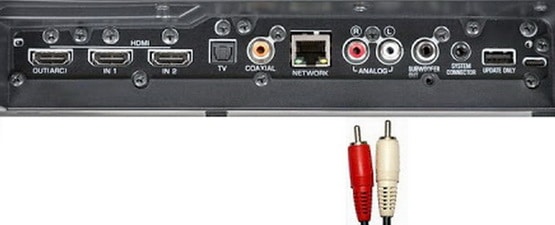 RCA cables (back of tv) connect soundbar to tv
Can I Stream Music On My Soundbar?
Most soundbars have bluetooth. There should be a button or key to press on the soundbar or the remote control to turn on "pairing mode". When the soundbar is in pairing mode, any wireless device can connect to it. This means you can "stream" music or any audio from your phone, tablet, or laptop directly to the soundbar with bluetooth.
How To Stream Music To Soundbar?
Put the soundbar in pairing mode. Turn on bluetooth on your phone and FIND the soundbar. Connect to the soundbar through bluetooth. Find an audio file on your phone or stream music from any music streaming service. If you have Amazon Prime, you are able to stream music for free using Amazon Music from any device. Select a song and it will play through the soundbar. You can then adjust the sound using the soundbar remote control. Adjust the bass, treble, and turn on surround sound mode to really enjoy the music.
A soundbar can be used to enjoy video games, movies, live sports, and used as a complete home stereo system.
Soundbar Audio Is Delayed Not In Sync
If the soundbar audio is not synced to the video screen, you may need to adjust the settings of the TV or the soundbar. Audio delay is a common issue with soundbars if not set up properly. Try changing the TV sound setting to PCM. Also, try adjusting the soundbar using the "lip sync" or "room size" settings.
Which Soundbar Should I Buy?
Buying the right soundbar is important. If you are on a budget, try to find a highly rated soundbar on sale. If you have no budget, get the best soundbar you can. A high quality soundbar can be used in many different ways.
Playing video games with surround sound can be an immersive experience. Getting a high quality soundbar can make watching TV, playing video games, watching Netflix, and watching sports a better experience.
For more info on surround sound see the page here that explains the different surround sound systems from 3.1 to 5.1 to 7.1 to 9.4.
For more info on connecting a soundbar to a TV using HDMI ARC, please watch the video below. This explains ARC and how it works when using a soundbar.

What is HDMI ARC? How to connect soundbar to TV?
Need help connecting your soundbar to your TV? Leave a comment below and we can help. For best results, let us know what type of cables you are using and what type of TV you have.