No sound from my surround sound speakers! If you have ever had the issue where your stereo sound receiver powers ON but there is NO sound coming out from the speakers, then this NO SOUND COMING FROM SPEAKERS information will assist you to fix it. In these cases it's best to troubleshoot the problem before disconnecting any wires. What are some simple steps we could take? Let's find out below. MORE INFO: Click here if your TV has a picture but no sound?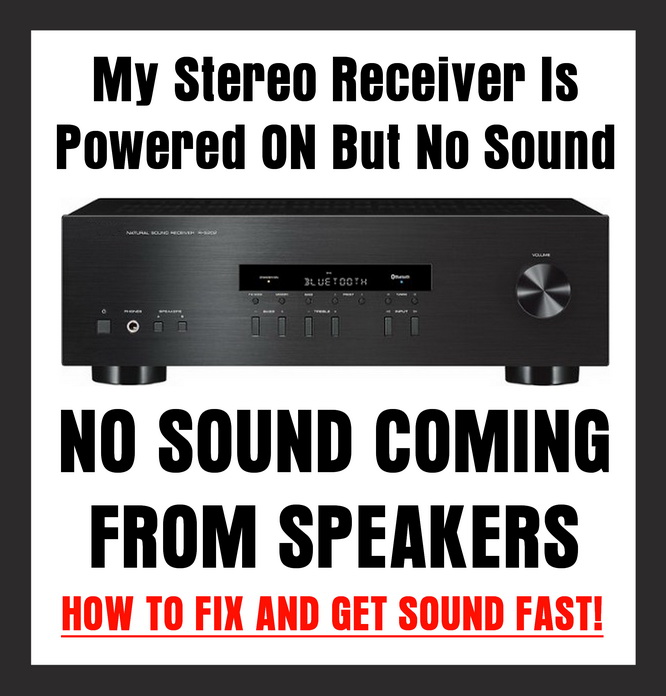 My stereo receiver is set up with surround sound speakers for home theater and I hear no audio coming from any of the speakers? A few simple steps will help you to get your surround sound to work properly. It is usually something simple that you may have overlooked!

How to Troubleshoot No Sound On a Home Theater Hook Up
Mute Button Pressed?
An obvious small little button on your remote may be causing all the problems. Have you inadvertently pressed the MUTE button on your remote control? Be sure the MUTE button is not pressed before going any further into the steps below.
Receiver Getting Power?
Make sure that the receiver is plugged into the wall outlet securely. If you're still unable to hear anything, try plugging the receiver into a different wall outlet and see if audio can be heard.
Issue With Power Cord?
Check to be sure the receiver is turned ON and set to the right setting. If the receiver is plugged into the wall but getting no power, check to be sure the other end of the power cord is plugged into the receiver.
Stereo Input Settings?
If not, then check your stereo input settings on your audio receiver for anything unusual like a low volume setting or an input button that is depressed that should not be. Be sure that an input such as A/B or CD/SAT/DVD/BLU-RAY/RADIO is not pressed in or selected inadvertently. If you are trying to watch a Blu-Ray, make sure the receiver is selected to Blu-Ray. Check all inputs and experiment in case one of them has not been selected properly.
Components Connected Properly?
Check to be sure the cables to the components such as a CD, Blu-Ray, XBOX, PS5, or Cable box are connected properly into the receiver and or TV.
HDMI Cables Securely Connected?
If you have multiple HDMI cords or an Optical Audio cable connected to the TV and the receiver, be sure they are correctly connected and securely connected where they need to be. If any of the HDMI cables are connected wrong, you may not hear any sound from your audio receiver.
Speakers Have ON/OFF Switch?
Make sure that the speakers are on if applicable. Some speakers have an ON/OFF switch on them. If off, the speakers will not produce sound. Check all speakers to confirm the switch is turned to ON.
Loose Copper Speaker Wires?
Check for loose copper speaker wires going from the stereo receiver to the speakers. Sometimes it will appear a copper wire is inserted into the proper area but may need to be cut back further and reinserted. If you find any damaged then you should replace them with brand new speaker wire. Also check the copper wires on your surround speakers to see that they are not touching. Wires touching will cause problems.
Try A Factory Reset
Your receiver may be able to factory reset. Doing this may clear any issues that cause the no sound issue. Consult your stereo receiver manual to find out if it is possible to do a complete reset.
What Else Causes No Sound From Receiver/Speakers?
Low voltage from the power supply unit.
Speakers have faulty wires/bad connection.
A blown fuse within the receiver.
Issue with Bluetooth from receiver to speaker.
A faulty issue within the receivers board or power supply.
Have problems with your stereo receiver getting sound and need help getting it fixed? Let us know the receiver you have and tell us about your issue below in the comments.