You want to use your Android tablet as a GPS navigation device. Your tablet works great with WIFI, but once you walk out the door you have no data for GPS. We had the same problem as we wanted to use our tablet for a huge GPS screen in our car for our road trip. The problem was that without a data connection, the maps and voice guidance did not work.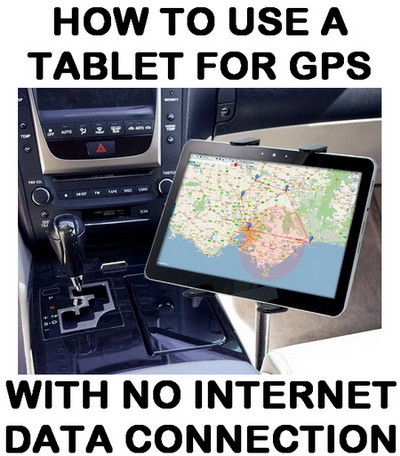 So, the solution to turn your tablet (or phone) into a GPS without data can be one of three ways…
The first and best method to use the GPS on your tablet with no internet connection is a completely new and free GPS NAV app that stores the maps to your SD card. The one we found to work very well with NO DATA CONNECTION is MapFactor. MapFactor Navigator is a free turn-by-turn GPS navigation app for Android phones and tablets using OpenStreetMaps data. Maps are installed on the SD card so there is no need for an Internet connection when traveling. Once you install it, it will ask you to download the turn by turn guided voice in your language. You will also be given the option to download the US State map (or country if you are not in the USA) you are needing to travel through. For example, if you are driving from Los Angeles to Phoenix, you would need to download 3 things. The guided voice, the California map, and the Arizona map. This app works very well and can even show you where gas stations, restaurants, hotels, and points of interest are located without a data connection.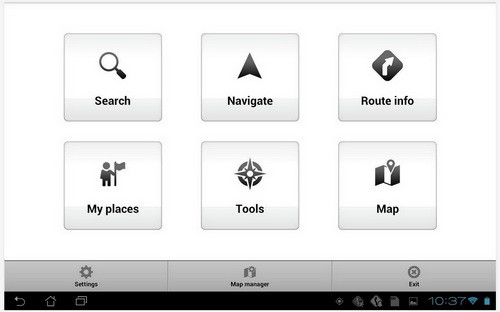 Here is what the MapFactor app will look like on your Android tablet.
The best GPS app to use for your tablet without an internet connection!
Features of the MapFactor GPS Navigation App:
Voice guidance
* intuitive voice navigation in different languages
* door to door route planning
* cross-border routing without the need to switch between countries or to a less detailed map
* overview of the upcoming turns and distance shown on the screen
GPS satellite navigation
* 2D/3D mode allows realistic visual map display
* day/night modes switch color schemes for day or night time driving
* map rotates in driving direction, or north up
Searching
* find nearest points of interest
* postcodes
* full postcodes (zip codes)
Speed cameras
* hear audible warnings as you approach speed cameras
Features
* add your own favorite locations and routes
* routing modes for car, pedestrian, truck
* route avoidance – block off certain road from your route
———————————————————————————————————————————————–
The second method to try for using your tablet for GPS with no data connection is an app called NAVfree. This free GPS app also lets you navigate without an internet connection. It is called NAVfree for outside of USA and NAVfree USA for use in the United States. NAVfree is GPS Navigation with Offline Maps & Streetview. No need for a mobile data connection as the maps are saved to your device or SD card. You download only the maps you need for your current driving trip. This way you are not filling up the memory on your device with maps you will never be using. You have the option to download the maps you need at anytime and delete the ones you do not need anymore.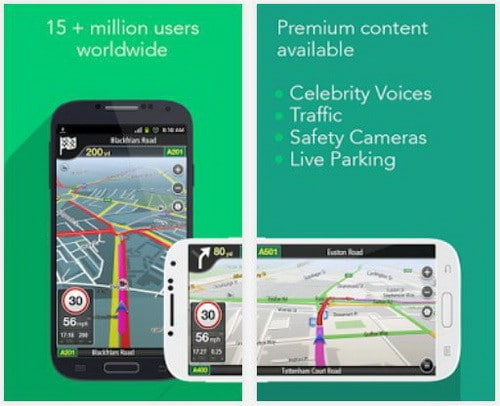 Here is what the NAVfree app will look like on your Android tablet.
The second best NAVIGATION app to use for your tablet without an internet connection!
Features of the NAVfree GPS Navigation App:
• Complete voice guided navigation
• Incredibly beautiful HD maps
• Fast routing – no data connection is required!
• Missed a turn? No problem…let automatic rerouting get you back on track.
• Switch to walking mode when you're on foot.
• Offline and Online address search.
• Simple POI search within Navfree, or use Foursquare for an extensive list.
• Navigate via Postcode, city, street or POI. What's here?
• Upgradable Premium Content including: Traffic, Celebrity Voices, Safety Cameras
• Integrated Google street view

Wanna see exactly how to turn your tablet into a GPS without using a data connection? Here is a video tutorial.
———————————————————————————————————————————————–
The third way to effectively use your tablet as a GPS without an internet connection is the familiar Google maps. Using the Google maps app you already have on your device, you can save the desired zoomed in map area that you will need for your trip. Google lets you save up to 6 large map areas to use offline. Just be sure you have sufficient space as the downloaded maps can be quite large. If the maps you have saved for offline use are properly downloaded to your device, start the GPS navigation when you are connected to WIFI, then the device should have the needed info to be able to direct you to your destination without a data connection. NOTE: On some devices we tested, the Google Maps app did not properly navigate us to our destination if we did not start the navigation process while we were connected to WIFI or data. If you experience issues, simply start the navigation process while you are at home and connected to your WIFI. Then just take the tablet with you into your car and you should have no issues.
Do you know of other navigation apps to use on a tablet without an internet connection? Please let us know by leaving a comment below.