(Last Updated On: April 23, 2019)
Washer hoses leaking! Washer hoses can leak and cause water damage. If you have washing machine water fill hoses that leak from behind your washer, you need to inspect them ASAP. Damaged or loose washing machine hoses can cause water leaks at the back and around the washer. Any damaged water hoses need to be inspected or replaced as soon as possible.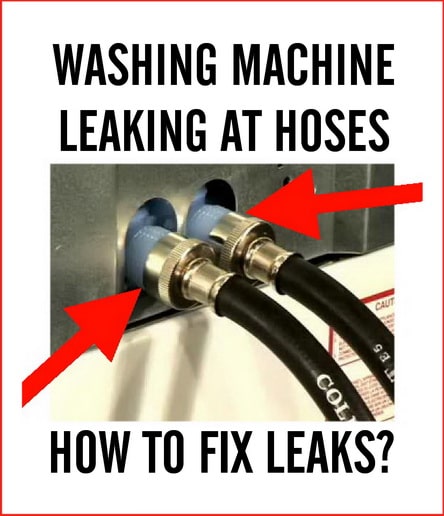 How To Fix Washing Machine Hoses That Leak Water
FIX A WASHER HOSE LEAK ASAP
A washer leaking water can quickly become a disaster. If a damaged water hose is not fixed ASAP, the hose could leak even more water and seriously damage your laundry room or home. A washer leak could mean replacing drywall, tiles, baseboards, flooring, and more. Fix a washer leak the moment you find it or it could mean replacing various parts of your home and costing you thousands of dollars or complicated insurance claims.
Here are the 3 main reasons why a washing machine is leaking water from the water hoses at the back and how to troubleshoot the leaks…
1. WORN OUT WASHERS OR SEALS
A common reason for a washer water hose leak is a worn washer that sits in the water fill hose. Over time these washers get "smooshed" and allow water to pass through which causes a leak. These seals or washers can be easily replaced.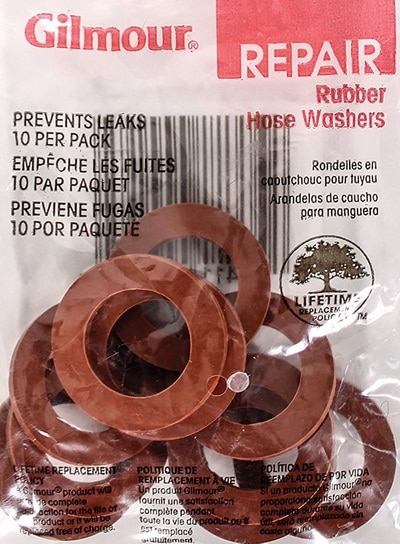 Washing Machine Rubber Hose Washers

Rubber Seal In Washing Machine Hose Prevents Leaks!
ALWAYS CHECK THAT HOSES HAVE RUBBER WASHERS!
IF NOT, THE HOSE WILL LEAK AND CAUSE DAMAGE!
2. WATER HOSE LOOSE AT CONNECTIONS
The second reason why a water fill hose can leak: The water hose can come loose from the constant vibration. If this is the case, you need to simply tighten up the water hose connection to stop the leak. Check the tightness of the connection on the washer and on the wall.
3. DAMAGED OR WORN WATER HOSES
Another reason is worn out or damaged water hoses. A damaged or torn water hose will leak out water from the back of your washer. If you have rubber water hoses, it is recommended to replace them with stainless steel braided "BURST PROOF" hoses to prevent pinhole leaks and bursting.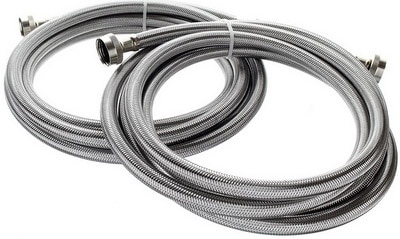 Stainless Steel Washing Machine Hoses

How to fix washer inlet hoses leaking water?
To fix a washer leaking water from the fill hoses:
Unplug the washing machine from the power outlet.
Carefully slide the washer out from the wall to access the water hoses.
Turn off HOT and COLD water supply to washing machine.
Use a small bucket under the water hoses to catch any water.
Unscrew both HOT and COLD water hoses.
Remove the hoses from the wall and the washer.
Inspect the hoses for wear and tear and any type of damage.
If hoses are damaged replace with new SS hoses.
Use new washers on both ends of the hoses (total of 4 washers)
Install the hoses on the back of the washer and the wall/tap with new washers.
Tighten the hoses hand tight, then one quarter turn with slip joint pliers or pipe wrench.
Once the hoses are installed, turn HOT and COLD water on.
Check for water leaks on both ends of the hoses.
If no leaks are found, turn the power back on to the washer.
Run a test wash and observe the water hoses for any leaks.
If no leaks are found, carefully slide the washer back into place.
Problem resolved – The washer water hose leak is now fixed.
NOTE: It is a good idea to use a filter screen on the water hose end that attaches to the washer water inlet valve. This filter screen catches any particles or hard water that may enter the washer. This prevents any foreign objects from entering the washer and getting into the water inlet valve and clogging it up.

Washer Inlet Hose Filter Screen Repair Kit
If you have inspected the water hoses on your washer but still find them leaking, let us know what the situation is and we can assist. Leave your question or comment below.
More Washing Machine Help:
Washing machine has mold in detergent drawer
Washer does not dispense detergent
Front loading washer makes my clothes smelly
Washing machine leaving your clothes soaking wet
Allen is the author and creator of this website. He has years of experience with appliance repair, commercial food machinery maintenance, electrical, HVAC, plumbing, vehicle maintenance, and critical aviation related systems.