Dryer issue with venting? If your dryer vent light turns on, or the dryer is having drying or venting issues, it is time to check the vent area and venting hose. If the dryer vent hose is filled with lint, bent or kinked, the hot air cannot escape and the clothing will take a long time to dry or the room where the dryer is located may get very hot and lint may be covering the floor. Here is what to check if you are having venting issue with your clothes dryer.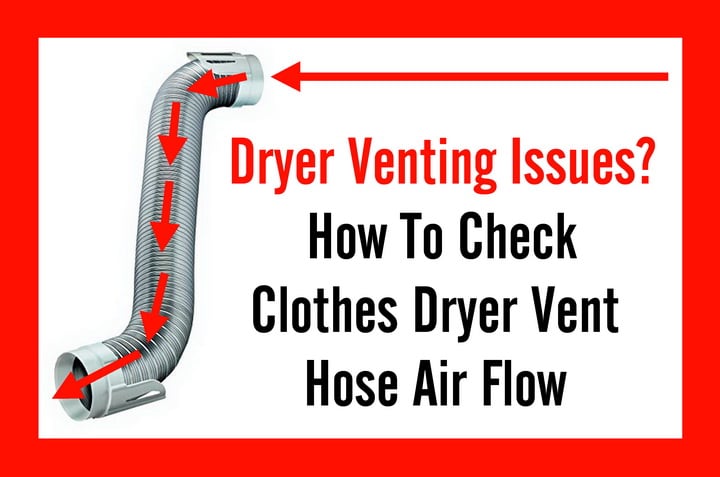 Fast Easy Ways To Fix A Venting Issue With Dryer
HINT: While the clothes dryer is running, go outside to where the hot air escapes and make sure you feel hot air coming out. If so then you know the dryer is able to push the hot air out and the issue you are having may be within the dryer itself. If you do not feel hot air coming out, check the problems and solutions below.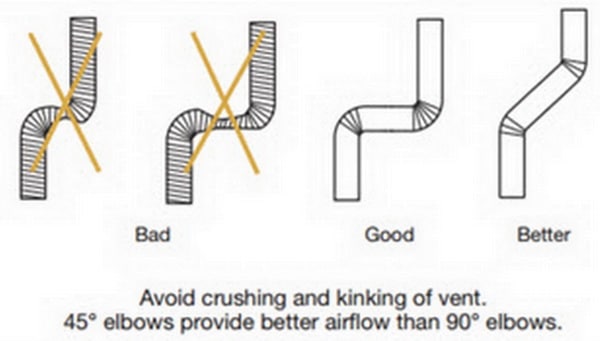 Dryer Vent Sample Positions
Fast Easy Ways To Fix A Venting Issue With Dryer
1. Check the lint filter inside the dryer.
Fix: Slide it out and remove all lint.
2. Check that there is no lint build up in the dryer lint filter housing.
Fix: If lint is found, use a vacuum cleaner to remove it.
3. Be sure dryer is not pushed so close to wall that it is crushing the vent hose.
Fix: If the hose or tubing is crushed, reshape it or replace it and make sure dryer has sufficient spacing from the wall.
4. Dryer vent hose has lint clog within it.
Fix: Remove the dryer vent hose and vacuum it out to remove the lint blockage.
5. Lint is on floor of laundry room and room is hot.
Fix: This probably means the dryer vent hose has fallen off or has been damaged, check back of dryer and reattach vent hose or replace if damaged.
6. Clothes do not get dry may mean lint buildup inside the tubing in the walls of your home.
Fix: Remove vent hose and clean the hole in the wall with a canister vacuum or a lint brush kit.
7. Lint build up inside of the dryer.
Fix: There is a flap in the dryer that may be stuck, consult clothes dryer manual for where and how to fix.
8. Screen on outside of home where hot air flows may be blocked.
Fix: Check the outside of your home to be sure no blockage is found.
9. Wall vent hose attachment may have an issue.
Fix: Check the wall area where the hose attaches onto and be sure the wall attachment is not damaged or falling out.
10. The dryer itself may have an issue if the the VENT or LINT light is turned on.
Fix: Consult the clothes dryer manual to find out what the issue may be and how to fix it.
11. Vent hoses may be in working order but the attachments are not placed correctly.
Fix: Reattach hoses if the hose connectors are out of place or not centered on the end of the vent hose.
12. If all methods above have been tried and you still have venting issues.
Fix: Try removing power to the dryer for 10 minutes as a fault may have occurred and the dryer needs to reset.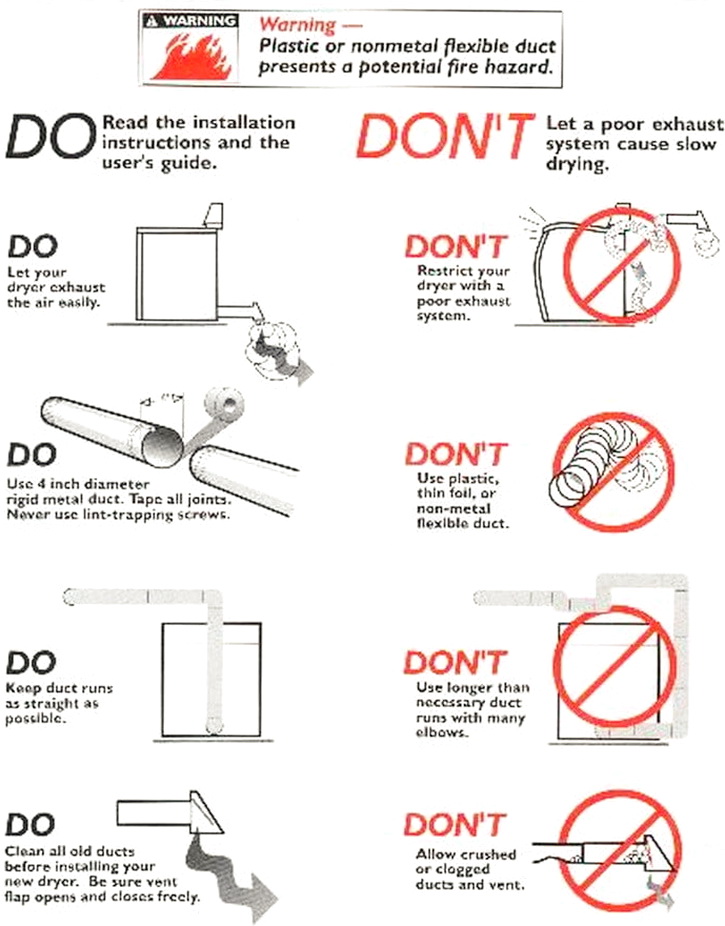 Dryer Venting Issues – DO & Don't
NOTE: If replacing your dryer vent hose, do so in the shortest length and minimum number of bends. Try not to let the vent hose have any low areas when attached to the wall and dryer, as these areas will tend to collect the most lint and cause a blockage. Use an aluminum vent (no longer than 25 feet) that is resistant to fire and will not sag down as much as other types of tubing.
The methods above will work with most dryers on the market today including: GE, Whirlpool, Samsung, LG, Haier, Kenmore, Hotpoint, Emerson, Maytag, Sharp, Bosch, and Frigidaire dryers.

Dryer Transition Duct Installation

Flex Hose Tips – for Venting the Dryer
Simply ask your question using the comments form below (It is free and you do not have to register!) and we can troubleshoot your dryer problem.