Having the correct planting space is usually a problem when trying to plan your new garden layout. If you don't have enough room to plant this year try going vertical. This DIY Garden Tower Planter (strawberry planter) will give you the extra gardening and planting space you need. This is a great DIY Garden Project but because of the compound angles that need to be cut, it requires a compound miter saw which does take some skill to use correctly.
This tower set us back around $200 dollars to build ourselves but everything was available at our local home improvement store which makes for easy one stop shopping. This DIY project did take quite a bit of time, approximately 4 days after work, so about 16 hours, which can make for a good long weekend project. Before you plant your seeds, consider using a Hydrofarm germination station to jump start your seeds!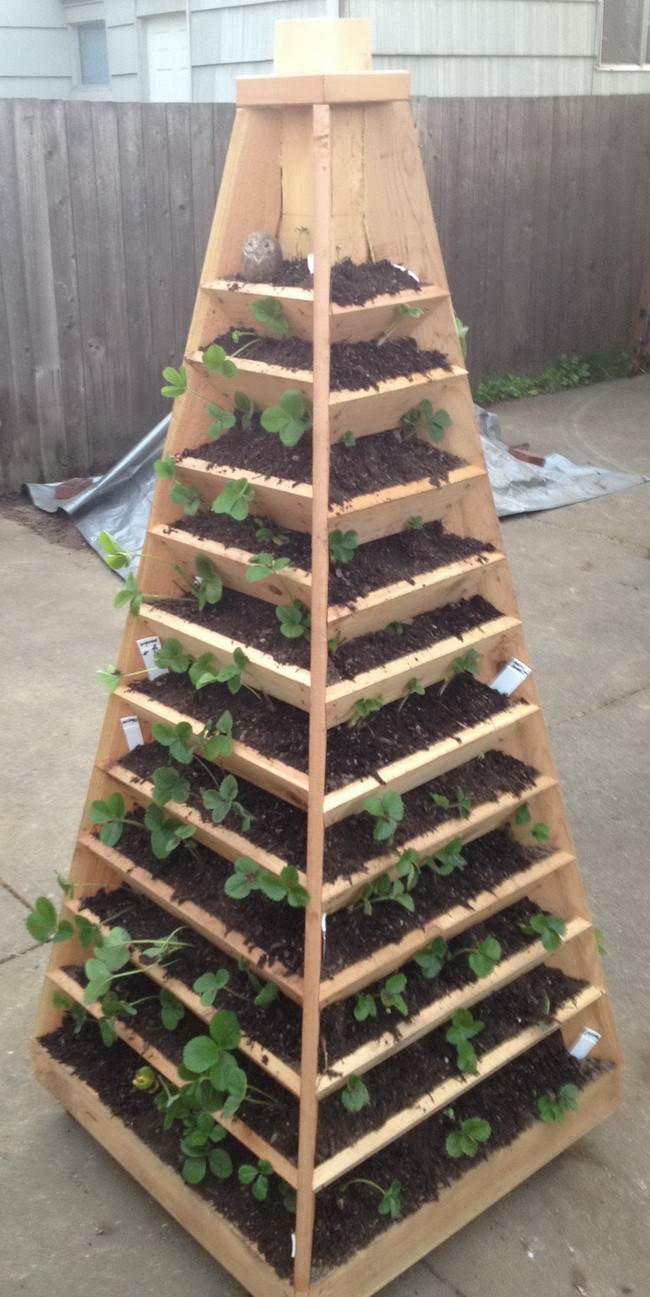 Material's Needed For Garden Tower (with prices):
1 – 4″ X 4″ X 6′ Cedar Wood (for main center post) / Price = $20.00
11 – 1″ X 4″ X 8′ Cedar Wood (for structure) / Price = $100.00
1 – 3′ X 3′ Plywood (for base) / Price = $15.00
1 – 2″ X 2″ X 8′ Cedar Wood (for top) / Price = $20.00
4 – Casters 4 Pack (bottom wheels) / Price = $35.00
75 – 1 1/2″ deck screws / Price = $10.00
1 – Container Wood Glue / Price = $7.00
Gravel / Price = $5.00
Dirt / Price = $7.00
TOTAL COST = $219.00
There is a book with these building plans and 17 more awesome DIY garden projects perfect for your new garden this year that can be found here.
Extra Tips: We varnished the plywood to try to save the laminate to make it last more than 2 or 3 seasons. We also added a layer of rocks and gravel underneath the dirt to try to help with water drainage.
Also, since the upper most layers will dry out the fastest, in the future we want to rig up a time controlled spray irrigation line from the very top of our garden pyramid planter. By doing this the top layers will not dry out and the water will also trickle down to the base layers ensuring even watering if we time it correctly. We were thinking of using a large PVC pipe with small dripping holes to water our strawberries. We may build another one and make a space in the center piece of our cedar post for the PVC pipe to fit into. Then we would fill the PVC pipe with water and let it drip downward. We will update this page as we make changes and tweak our design to show everyone automated ways to water your plants.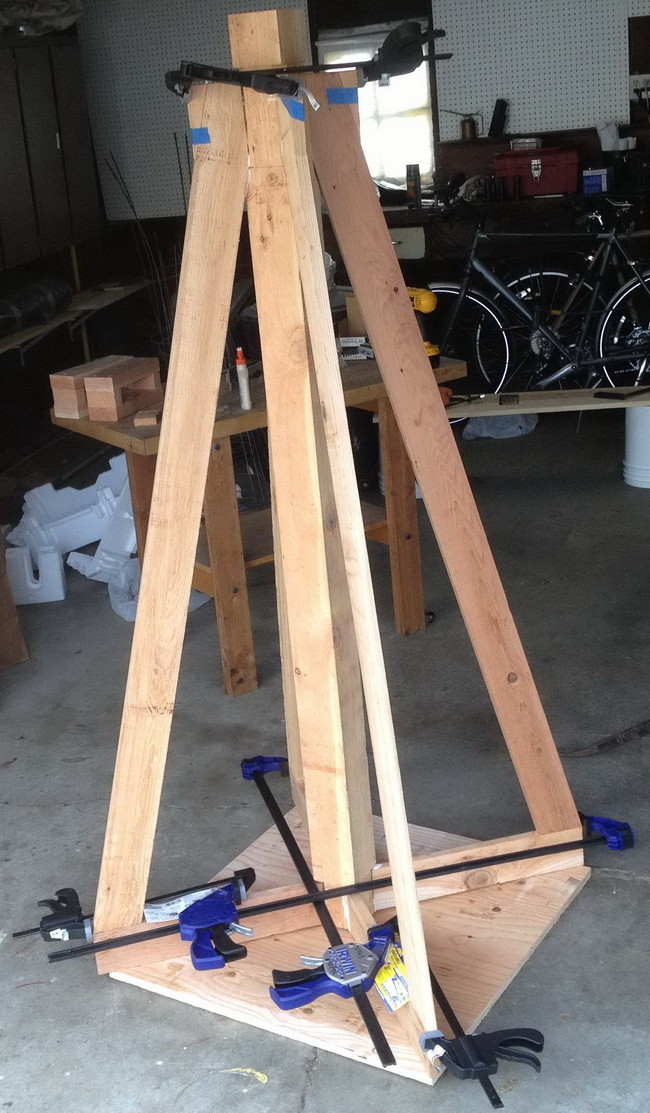 Our wood has been cut and we have secured our main
base structure together with screws and wood glue.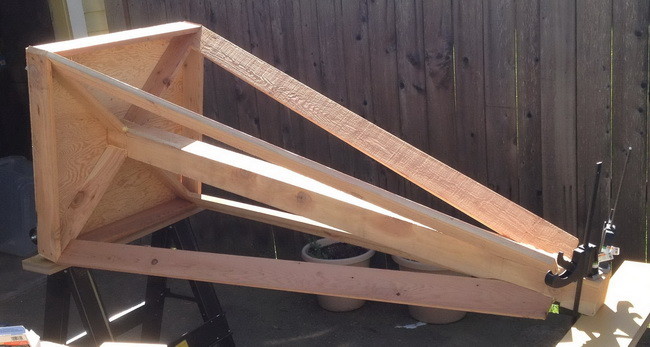 After the glue was dry we mounted the structure to the base with our wheels.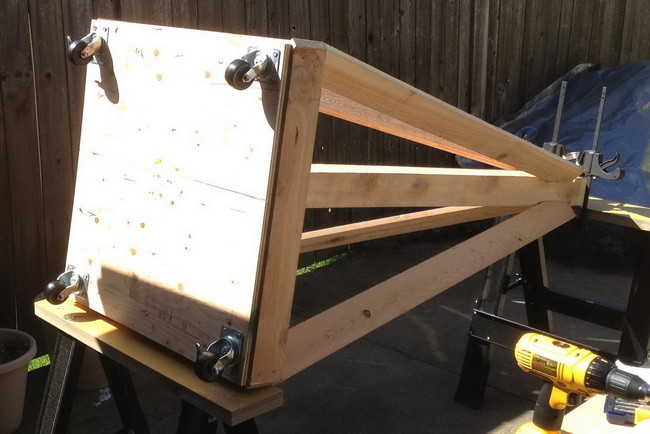 Once the main structure was attached we put the wheels on the base.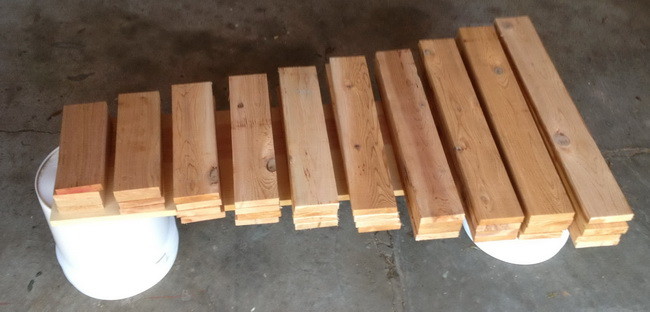 Here are our soil holding boards cut to size.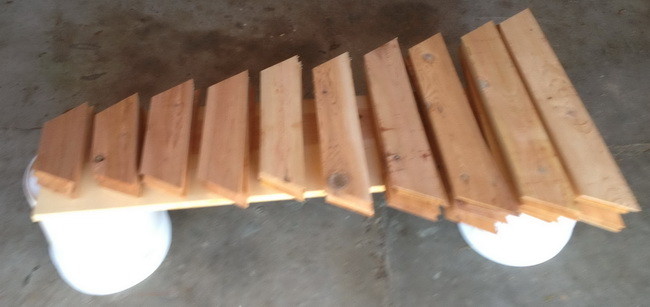 Once cut to size we cut the angles required and mitered the boards.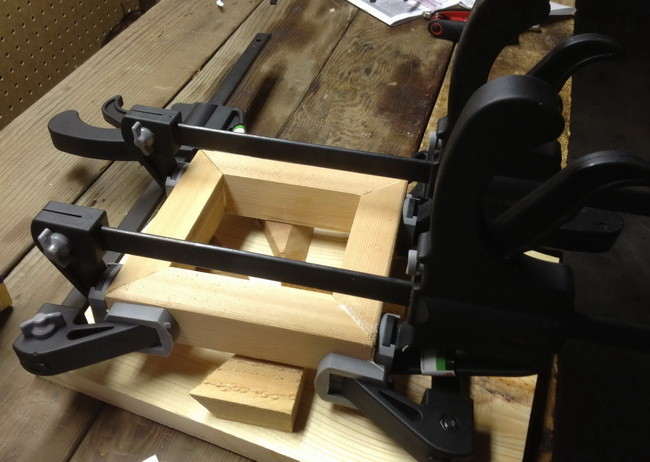 Our 2X2 cedar pieces for the top of our garden planter after we glued them.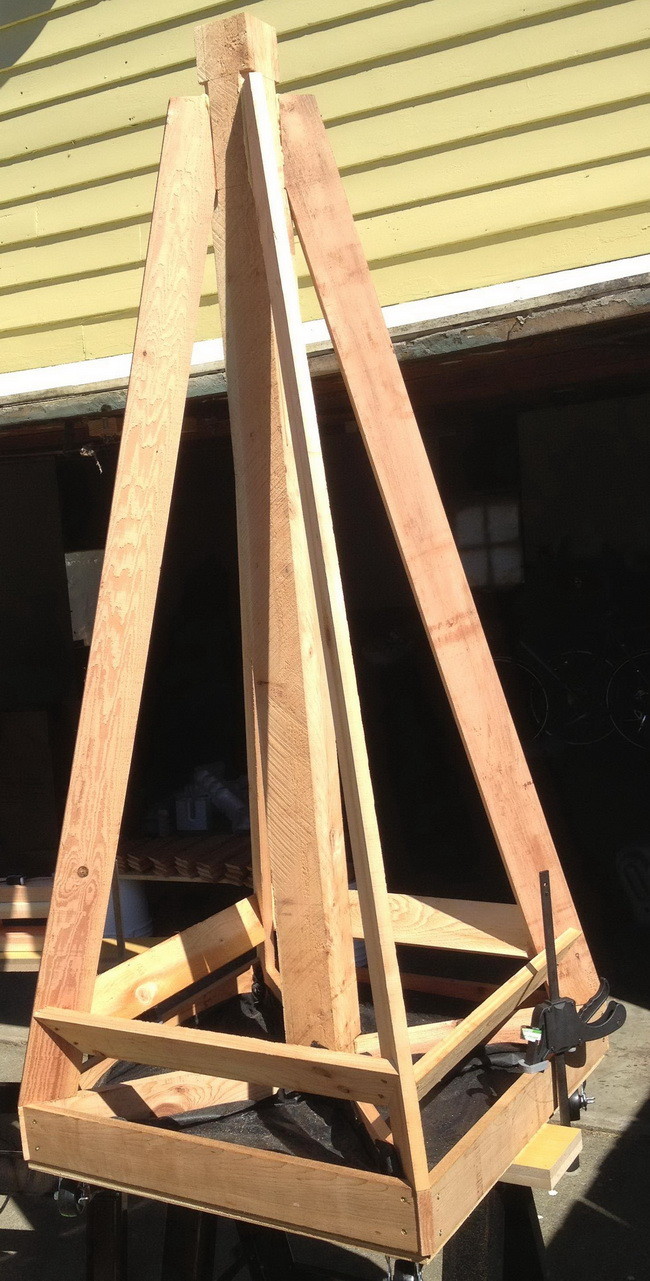 The first board to hold our garden soil in place is attached.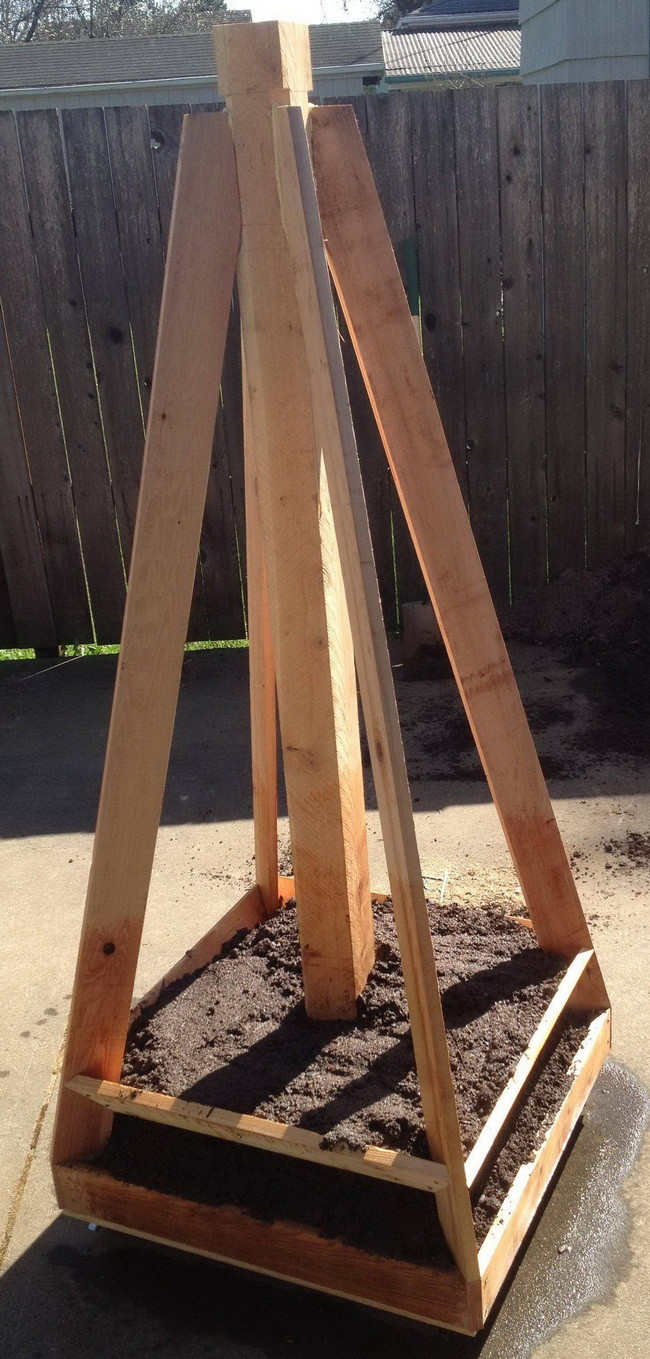 Our first load of dirt is in place in our bottom garden tier.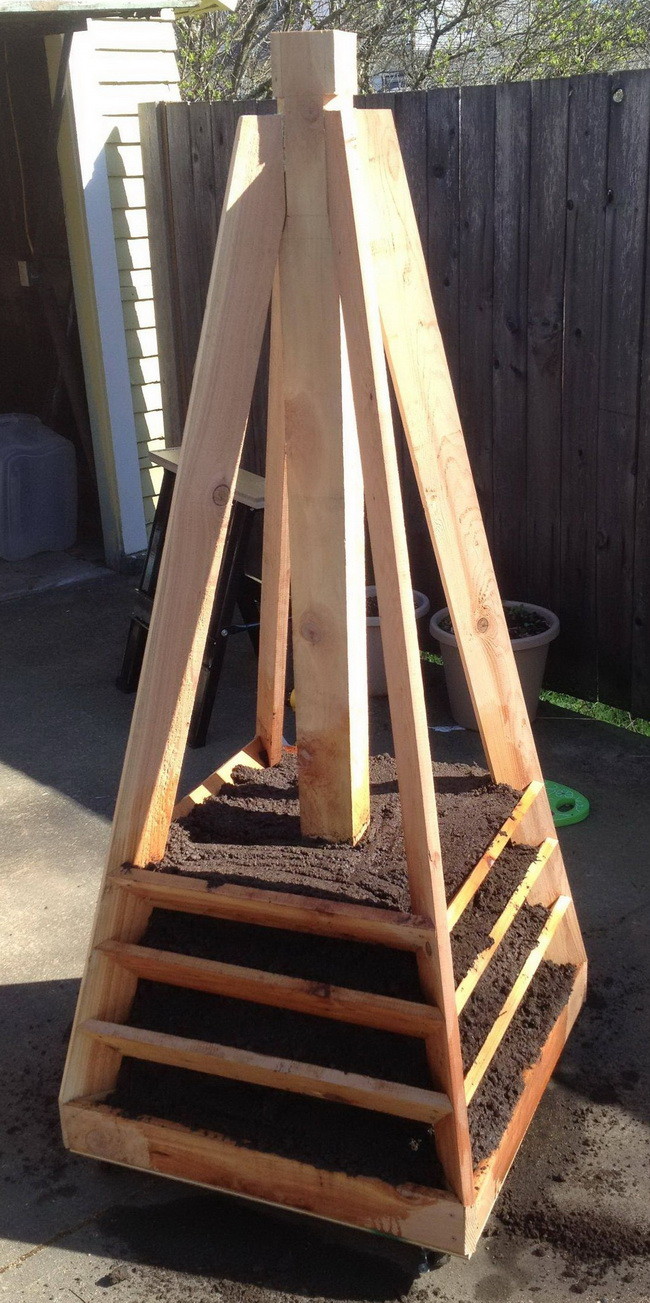 We slowly added the cedar boards from the bottom up and filled with dirt.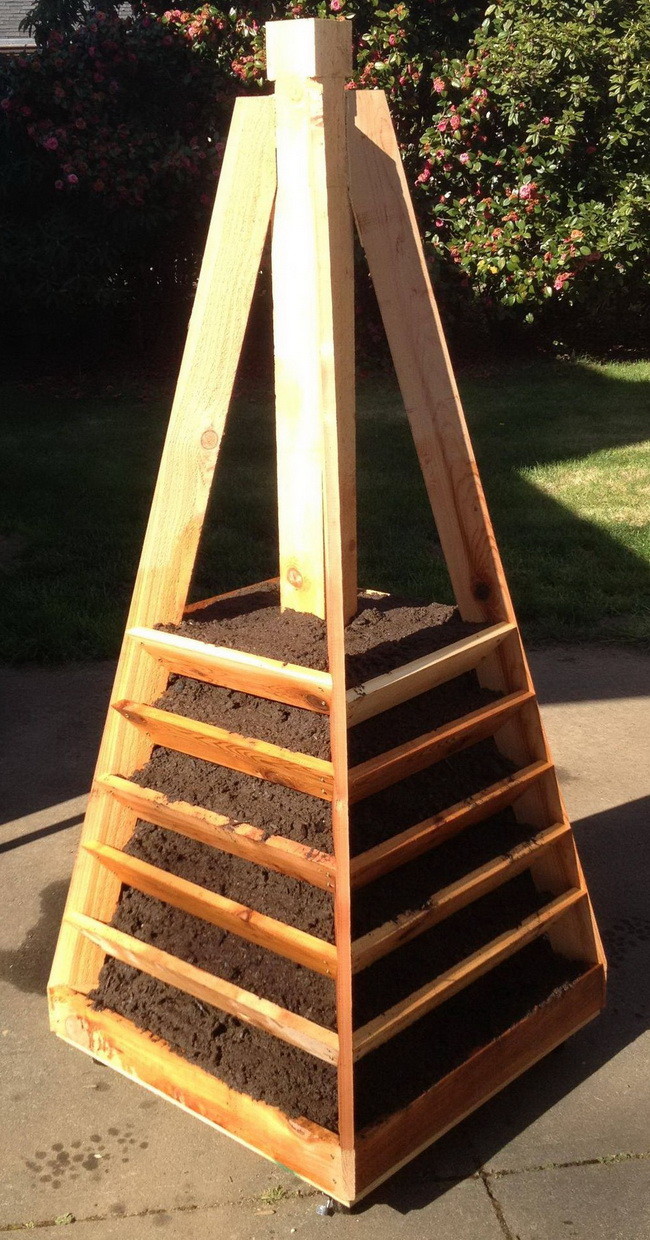 Took a long time but we were progressing upward with our soil tiers.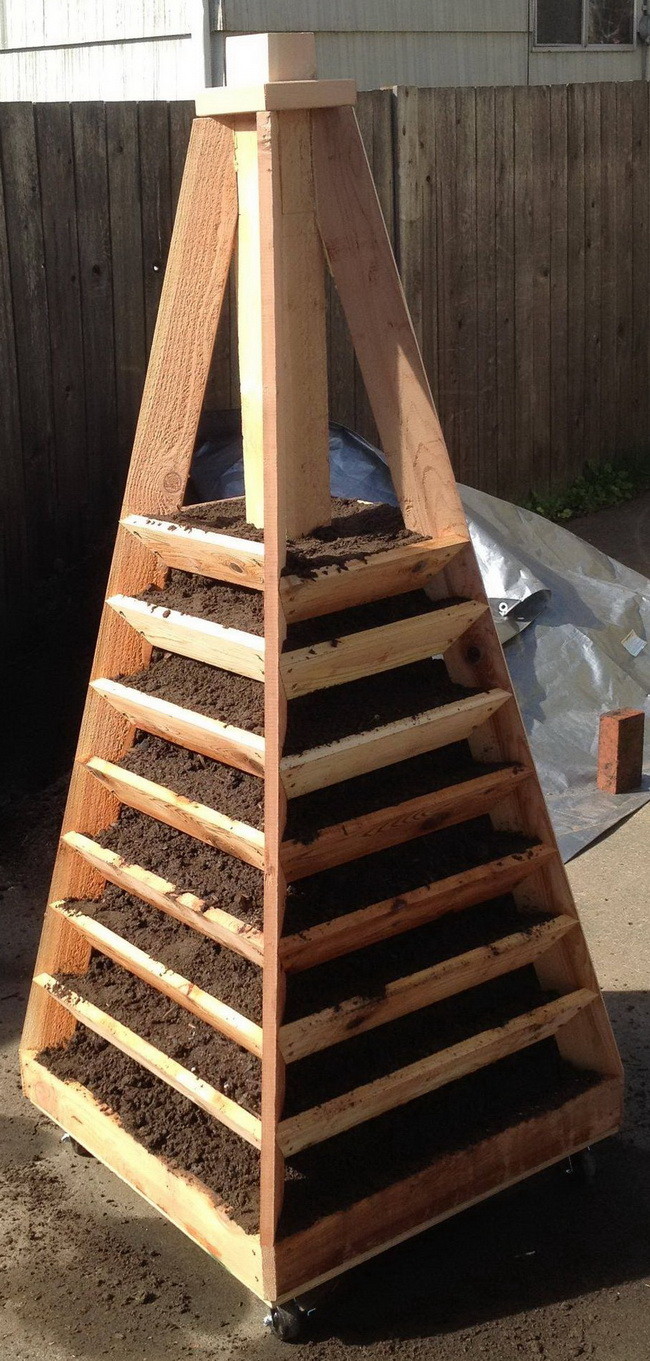 Starting to look good as we add more of our soil retaining tiers to our vertical planter.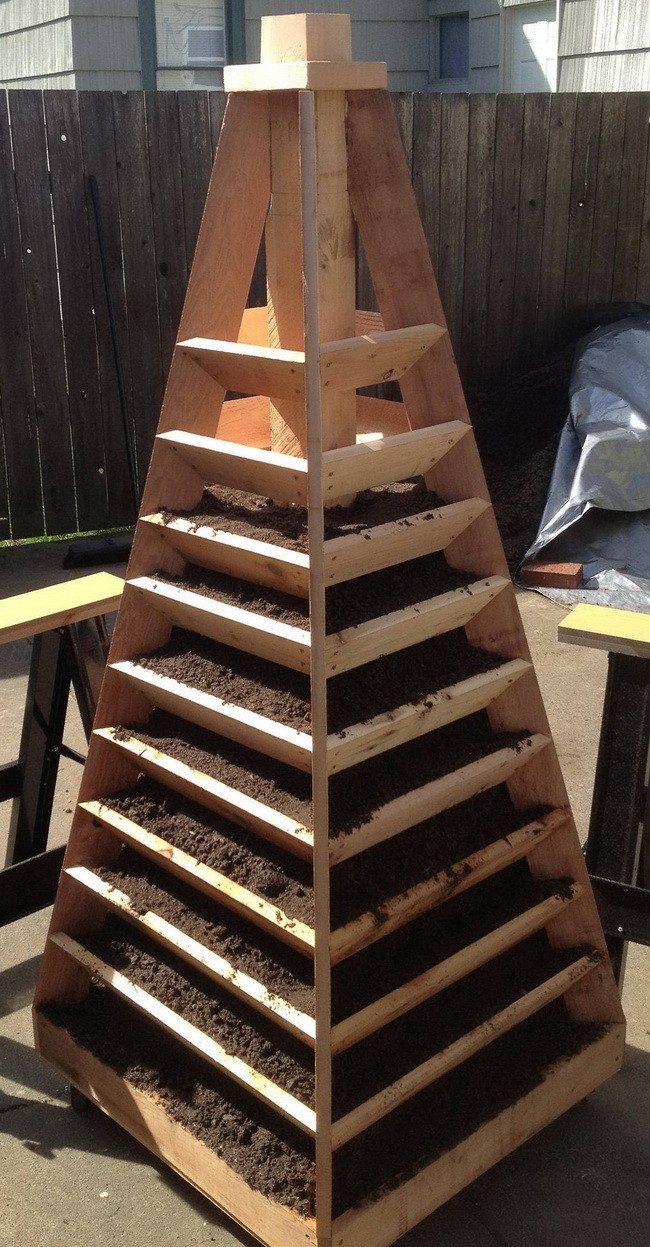 HINT: We added the dirt as we progressed upward as it was easier than doing it afterwards.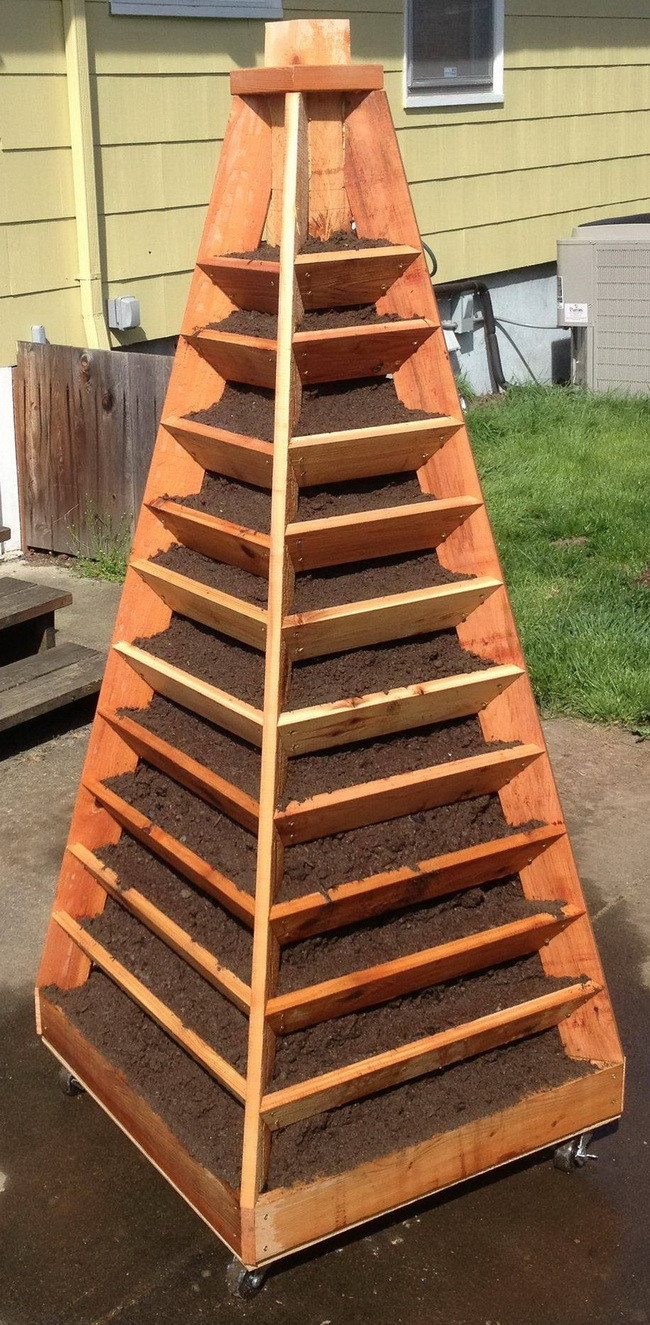 The very top of our garden planter is where we will be adding an automatic irrigation system.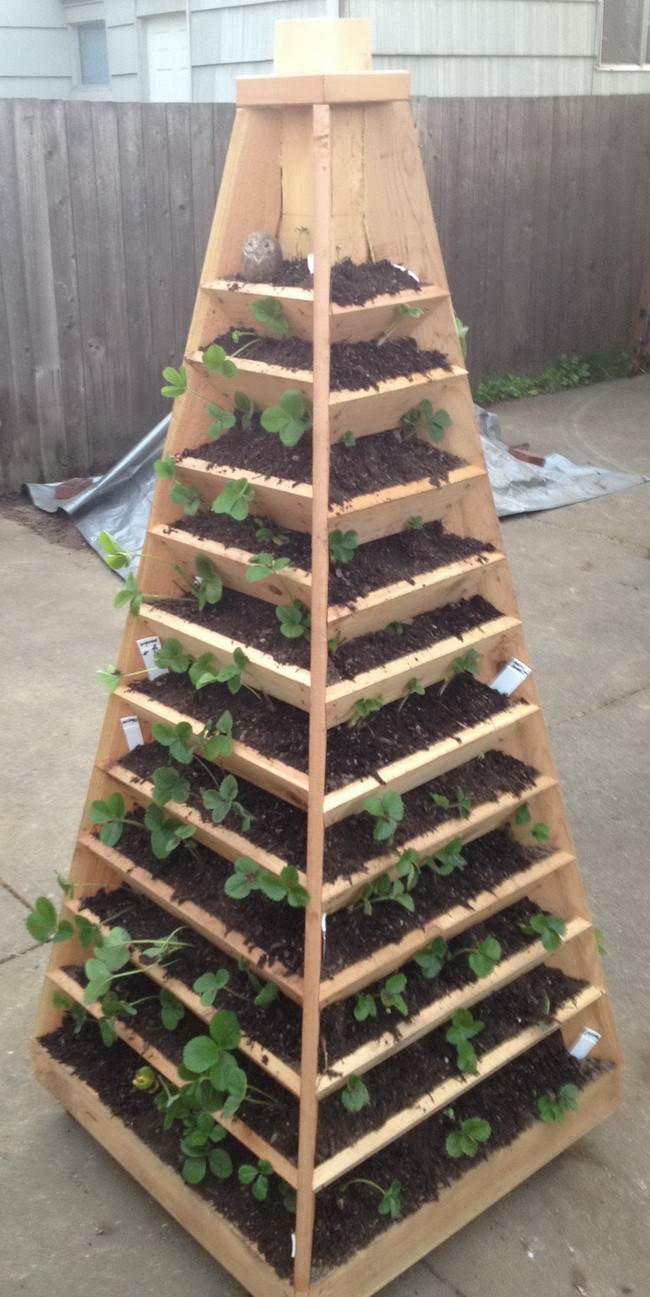 Our DIY Vertical Garden Pyramid Tower completed with Strawberries and Lettuce.