How do I fix my garbage disposal? A garbage disposal that HUMS or is STUCK AND DOES NOT TURN ON/DOES NOT WORK are very common problems. These 2 issues are the top reasons a garbage disposal does not work. Below we will show you how to fix a humming garbage disposal and how to fix a garbage disposal that does not turn on. These are the 2 most common garbage disposal problems with solutions.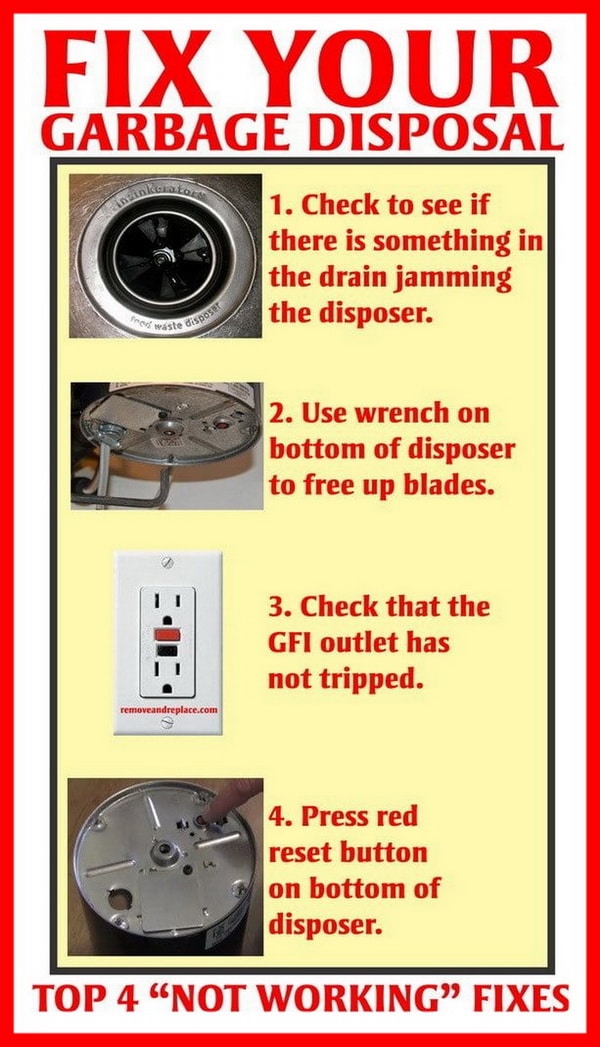 Fix A Garbage Disposal That Hums or Will Not Turn ON
How To Quickly Fix A Garbage Disposal That Hums? HUMMING DISPOSAL
A humming garbage disposal USUALLY means it is JAMMED.
The most common reason for a humming garbage disposal is from overloaded food particles.
Inside the disposal, the spinning impellers gets bogged down from the overloaded food particles.
This causes the garbage disposal to JAM and make HUMMING noises when you attempt to use it.
When this happens, use the small hex wrench that fits into the bottom of the disposal to "UNJAM" the disposal. (Use the 1/4-inch hex wrench and put it into the hex hole in the bottom of the garbage disposal, move it in both directions to unjam the impellers)
If the hex wrench does not fix the jammed disposal, wait some time to let the hot motor cool down.

Use wrench to unjam garbage disposal

Garbage Disposal Repair – How to Fix a Garbage Disposal
How To Repair A Garbage Disposal That Does Not Turn ON? DISPOSAL DOES NOT WORK
If your garbage disposal does not turn on, this USUALLY means it has overloaded and tripped.
When the garbage disposal gets overloaded, it will shut down for safety reasons.
To fix a disposal that will not turn ON, push the small RED button on the bottom of the disposal to reset it.
This RED button should turn the disposal back ON, if not, check the plug, check the GFCI outlet on the wall, or let the motor cool down and try again later.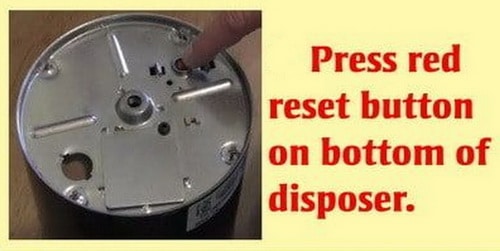 Press RED button to reset garbage disposal
HINT: If you have lost the hex wrench or do not have one, unplug the disposal from electrical power. Slide a broom handle in the disposal and push against the blades. Attempt to rotate the garbage disposal impeller to unjam it. Once unjammed, remember to plug the disposal back in.

How to Fix a Garbage Disposal From The Home Depot
Need more help with your garbage disposal? For other reasons why a disposal does not work…
– Fix A Humming Garbage Disposal Fast And Easy
– Garbage Disposal Spinning But Will Not Drain Problems and Solutions
– How to Fix a Broken Garbage Disposal Complete Checklist