Washer not rinsing? Have you recently removed a load of clothing from your washer and found that they are not rinsed properly? You may notice a residue of your laundry detergent still in your clothing or the clothes may be extra wet. Clothing that has not been rinsed properly is a sign there is an issue with your washing machine. We will help you to identify what may be causing the washer rinse problem. This will help you to find a solution as to why the washer does not rinse therefore fixing it yourself and saving money.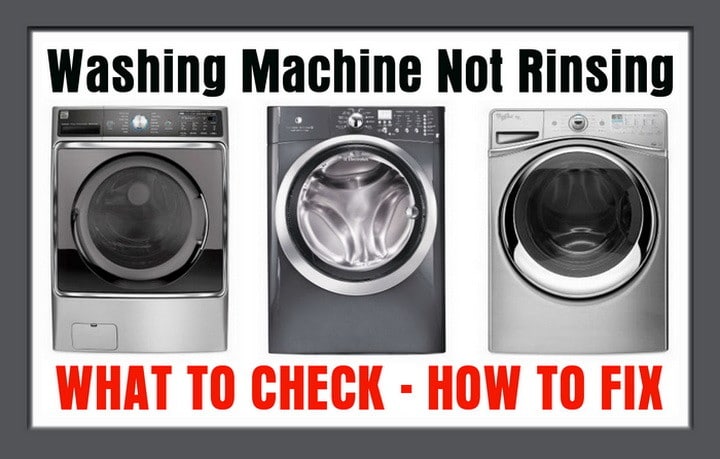 Washing machine not rinsing properly
Parts or problems on your washer that may cause it to not rinse properly:
1. Too much Detergent added
2. Overfilled Washer
3. Drain Pump not working or clogged
4. Drain Hose may be bent or clogged
5. Water Supply Hoses bent or kinked
6. Water Supply Valves not fully open
7. Switch or Control Board malfunction
The 7 items listed are the MOST COMMON reasons for a washer that will not rinse. Your washer may not be rinsing the soap out, the rinse cycle does not work at all, the rinse cycle does not fill with water, or the water fills slow during rinse. Below we will go into detail as to what you should check to get your washing machine to rinse properly again.
1. Excess Detergent:
Using too much of your detergent (HE or powdered) can cause your clothing to have soap residue left in it. You may have used a type of detergent that is not recommended for your washer. Do not use too much detergent and do not add the wrong type.
2. Excess Clothing in Washer:
Overloading the washing machine with clothing can cause an improper rinse. Adding just one large blanket may make your washer not able to fully rinse. Reduce the size of your wash load.
3. Drain Pump Bad or Clogged:
If you have a bad drain pump or a clogged pump this will affect the rinsing of your clothing. The pump in your washer may not be able to fully get all the water out as there may be something jammed in the pump. This will cause a restriction and the water will not flow out therefore not rinse properly. Remove the drain pump to see if something is stuck in it.
4. Drain Hose Clogged:
The drain hose is attached to the drain pump and goes to the wall to drain out. A bend in the drain hose will cause improper rinsing leaving soap and detergent residue. A drain hose blockage can cause dirty rinse water to back up and come back into the drum. Make sure the hose is not bent and free of debris.
5. Water Supply Hoses Bent:
Be sure that the hoses that supply water to your washer are not bent or crimped. Sometimes when the washer is pushed back into place the hoses get bent and cannot let the proper amount of water into your washer. Check to be sure the water supply hoses are not being restricted.
6. Water Supply Valves Not Fully Open:
There should be 2 water valves on the wall behind your washer. If one or both (Hot and cold) water valves are not fully in the open position, this can cause a rinse issue. Be sure that both the water supply valves are FULLY open.
7. Switch or Control Board Malfunction:
Your washer uses a switch or a control board to change wash functions. A malfunctioning switch or control board can make your washer not rinse at all. A bad switch or control board can also stop your washer right before the rinse cycle begins. Check the function switch with a meter to see if it is causing the issue. The control board can be looked at to see if there are loose wire harnesses or any burn marks.
Here are other problems you may have with your washing machine and pages to assist you to repair your washer yourself (DIY):
If your washer is not spinning, washer is not draining, washer is not turning on, washer is getting error codes, washer fills and drains at same time, washer is not filling with water, washer fills slowly, washer is overflowing, washer is leaking, or your washer is not agitating or washing, these pages will assist you to find the solutions and fix your washer.
If you have questions about your washer not rinsing properly, please leave a comment below and we will assist you to troubleshoot your washer.